Workshop on Energy Calibration of the ATLAS Calorimeters
---
Ringberg Castle and Travel Information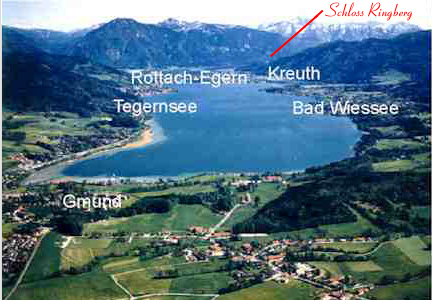 The workshop will be held at the Ringberg Castle of the Max-Planck-Gesellschaft. The castle is situated about 50 km south of Munich in the resort area of Lake Tegernsee. It is ideally suited for small conferences with intense working atmosphere.
On Sunday, 21-Jul-02, a bus will be provided to transport the participants from the Max-Planck-Institut für Physik in Munich to the Ringberg Castle. The bus will depart at 16:00 h.
On Wednesday, 24-Jul-02, a bus will transport the participants from the Ringberg Castle to Munich airport and to the MPI. It will arrive at the airport approximately at 16:15 h and at the MPI at 17:00 h.
For information on transportation from the Munich main railway station / airport to and from the MPI see the "MPI Travel Guide".
For those departing outside of the usual transportation scheme: A local train connects Tegernsee, a town near Ringberg Castle, with Munich airport in approximately 1h 45m. Check the following link for more information.
For information about the Ringberg Castle (on German and English) visit the "Schloss Ringberg" home page.
---
Last modified: June 27, 2002
---